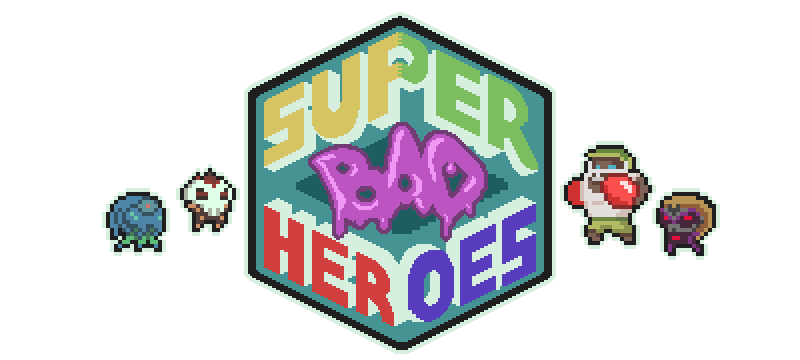 Super BAD Heroes
A downloadable game for Windows
[Game in development. Still buggy. We'll upload new versions as soon as we can]

Original version developed in 48 hours for the Student Game Jam VII.
Times have changed.
That accident permuted your powers and made them a national security problem. That's not totally true. But they're shittier.
Of course, your former fans are now enraged killing machines that want to destroy your statues. Stop them or something. It's up to you.
---
3(4?) PLAYERS LOCAL COOP

Pyro:
Throws fireballs that explode.

Atacking ignites him (yep).
Aquer:
Slides too much.
Can heal her partners with her watershot.
Magna:
Throws daggers like a pro.
Daggers attract fans.
Invy:
Barely there.
Punches fans to confuse them.
---
Controls ( 1 Mouse & Keyboard // 3 Gamepads)
WASD // Left Stick - Move
Cursor // Right Stick - Aim
LMB // Right trigger - Primary fire
RMB // Left trigger - Secondary fire (Only Magna)
Download
Comments
Log in with itch.io to leave a comment.
Can't seem to get the game to download. Odd!

Looks great though!
Hmm... That's weird. We can download it perfectly fine, but we've received more messages like yours from other people.
If it is an itch.io bug, there is no much we can do, but we'll try to solve it asap.
Thank you for reporting!

I think the problem is on his or itch´s side, because he/she commented this on several games.
is there online multiplayer available?
We don't have plans to continue developing this videogame. Maybe we'll try to do online multiplayer in other project...
You can follow us on Twitter for news. @VirtualMadness
;)